Curious about which trends or emerging innovations will soon impact your business?
Where should manufacturers start as they plan for what's next?
Date: 23 February 2022
Time: 3:00 pm (SGT)
Introduction:
Digital transformation will continue to be a priority in 2022, as manufacturers grapple with top challenges to meet growth expectations amid rising material costs, price reduction pressures, and increasing labour costs.
According to Boston Consulting Group (BCG)'s Digital Acceleration Index (DAI) study on global companies across 10 industries, the world's most digitally mature companies outperformed their peers in the areas of revenue growth, enterprise value, and ROI in digital projects.
They have certainly established a connecting technology and human capabilities culture in which employees are integrating technology and data into their daily responsibilities and tasks, from manual work, automation, and optimisation.
The world's most digitally mature companies are leveraging tech trends* to pursue new heights of rapid innovation, improved performance, and significant achievement.
What are the factory, process, and industrial automation trends that matter most today?
Understand how these trends are shaping and directing the growth of the manufacturing industry.
🟢

Join this webinar for an interactive discussion exploring:
Smart factory transformation capabilities, outcomes, and how does it make processes and organisations better?
How robotics process automation can support revenue growth and new business opportunities?
Additive manufacturing opportunities and reshaping your business with service on-demand production.
How to approach cybersecurity within organisations with complex structure, connected devices with different capabilities, software and operating systems, and critical functions?
Agenda
Title: Smart Factory Transformation with Autonomous Mobile Robots
Presenter: Poi Toong Tang, Vice President – Sales, Asia Pacific, Mobile Industrial Robots (MiR)
Businesses of nearly any size and industries are moving towards automation to increase productivity and create a safer work environment. Internal material transportation within manufacturing is one of the prime targets where there are many possibilities of optimising processes and workflows significantly with autonomous mobile robots (AMRs). Automating with Autonomous Mobile Robots is a strategic and cost-effective solution that can improve workflows and employee safety. In addition, AMRs are flexible to deploy, making automation easier than ever.
Mobile Industrial Robots (MiR) develops and manufactures the industry's most advanced range of collaborative and secure autonomous mobile robots. This presentation will walk through how manufacturers can quickly, easily, and cost-effectively manage internal logistics with AMRs, so that employees are free to carry out activities that create more value.
Title: Trends In Automated Quality Control Worldwide With Case Studies
Presenters: Viktor Mirkovic, Sales Engineer-AQC of Creaform and Jae-Joon Choi, Sales Application Engineer – AQC of Creaform
Learn more about the trends of hand-held measuring systems, from partially automated to fully automated systems, including those that can be used in production conditions. The presentation will focus on the automated quality control (AQC) trend in general, particularly the trends within the existing AQC solutions. The advantages of AQC solutions with actual case studies will be illustrated by the different problems that companies deal with today.
Title: Industrial Cyber Security In Manufacturing – Best Practices For Secure Manufacturing Systems
Presenter: Poh Chang Chew, Consulting Systems Engineer, Fortinet
In recent years, as businesses undergo digital transformation and Industry 4.0 grows from just a concept to reality, the convergence of the IT-OT network has generated a slew of new cybersecurity risks that need to be addressed. Join Fortinet's presentation as they walk through the various risk and challenges that industries face. Learn about some best practices and security controls you can implement while securing your OT environment in the Manufacturing Industry.
Speakers
Poi Toong Tang
Vice President – Sales, Asia Pacific
Mobile Industrial Robots (MiR)
Poi Toong Tang is Vice President of Sales, APAC of Mobile Industrial Robots (MiR), a rapidly growing and leading manufacturer of autonomous mobile robots. He joined the company in June 2020 to manage MiR's business across Asia Pacific region. Poi Toong is responsible to grow revenues through inspiring and developing high performance energetic sales leaders and teams. Together with our distribution and system integration partners, Poi Toong and his team bring the disruptive technology of autonomous mobile robot to our valued customers in solving their internal logistic and material handling challenges.
With close to 30 years of industrial automation and robotics experience, Poi Toong is a visionary, transformational and resilient executive leader where his strength is at business execution, putting strategy into action and leading change. Half of the period has been in sales leadership and the other half was in Marketing, with exceptions. Arm with a degree in electrical engineering, and a postgraduate degree in business administration, Poi Toong had ran his own automation company offering automation solutions and system integration services.
Outside of work, he values his family time, enjoys movies and exercises through running.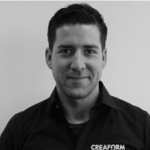 Viktor Mirkovic
Sales Engineer-AQC
Creaform
Viktor is specialised in industrial metrology and computer vision and subsequently worked for various companies ranging from IT to energy supply. Now he has been working for Creaform for 5 years in the Business Development Team as a Sales Engineer and help to develop this market in Europe for Creaform.
Jae-Joon Choi
Sales Application Engineer – AQC
Creaform
Jae-Joon Choi joined Creaform as an application engineer in 2016. He has years of experience in 3D scanning solutions and AQC solutions from Creaform, mainly related to automotive industry. After three years of working closely with customers, he became AQC sales application engineer in Korea and RoAPAC.
Poh Chang Chew
Consulting Systems Engineer
Fortinet
Poh Chang has over 22 years IT experience with 15 years Info Security and 6 years in Virtualization & Cloud. He has been working in a regional role within Asia Pacific for the last 11 years. Poh Chang is currently with Fortinet as a Principal Consultant for Industrial Cyber Security/Critical Infrastructure & Global Alliances APAC. Poh Chang's previous experience includes Cyber Security Management, ISO 27001, PCI and BC/DR.