Makino Asia Marks 50 Years of Innovating in Singapore for Asia and the World   Played a pivotal role in Singapore's shift to advanced manufacturing Latest innovation optimises production efficiency and high-quality precision in aerospace, medical, automotive and semiconductor industries With S$1 billion...
Yokogawa Adds IR800G, IR810G, and IR810S Infrared Gas Analyzers to OpreX Analyzers Lineup – New products that will help to curb the rise in greenhouse gas emissions – (more…)
About the video "Automation Technology and Solutions drive sustainability": Mike Train, Senior...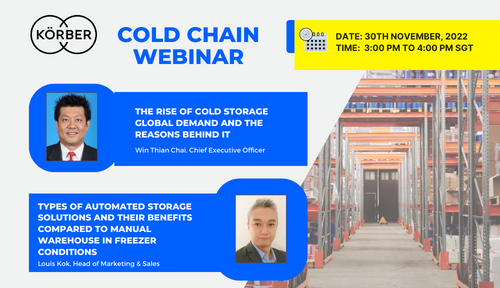 Cold Chain Webinar 30th November 2022 3:00pm to 4:00pm SGT Körber Supply...
HIMA opens new Regional Head Office in key Middle East Region HIMA, a leading provider of safety-related automation solutions, is pursuing a clear strategy to strengthen customer partnerships in key markets and enhance collaboration between its partners, sales and engineering services. The latest example...
FortiGuard Labs Predicts the Convergence of Advanced Persistent Threat Methods with Cybercrime (more…)
Securonix Research Reveals Observed Global Cyberthreats Surged 482% Year-Over-Year Annual Threat Report Shows Significant Rise in Number of Advanced Threats, TTPs and IOCs Identified and Scanned (more…)