Innovative bearing solutions for higher power density, longer operating times, and lower carbon footprint Robust rotor and gear bearing solutions as an answer to increasing performance optimization. New opportunities for wind farm operators: cost-effective continued operation, thanks to a good 50 percent...
From left to right: Panel discussion moderated by Mr Philip Lim, CEO, Aquinas Global and Mentor-at-Large, Audacity; featuring speakers Mr Atsushi Taira, Managing Director, Mistletoe Singapore Pte. Ltd. (parent company of Audacity); Dr Amy Khor, Senior Minister of State for Ministry of Sustainability...
About the video "Automation Technology and Solutions drive sustainability": Mike Train, Senior...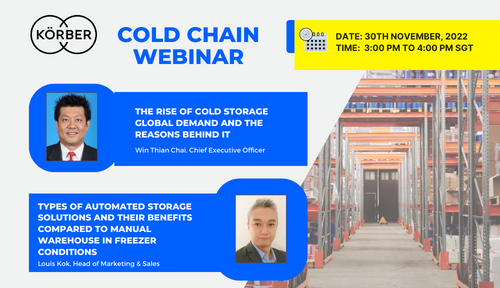 Cold Chain Webinar 30th November 2022 3:00pm to 4:00pm SGT Körber Supply...
HIMA opens new Regional Head Office in key Middle East Region HIMA, a leading provider of safety-related automation solutions, is pursuing a clear strategy to strengthen customer partnerships in key markets and enhance collaboration between its partners, sales and engineering services. The latest example...
FortiGuard Labs Predicts the Convergence of Advanced Persistent Threat Methods with Cybercrime (more…)
Securonix Research Reveals Observed Global Cyberthreats Surged 482% Year-Over-Year Annual Threat Report Shows Significant Rise in Number of Advanced Threats, TTPs and IOCs Identified and Scanned (more…)