Sunway Pyramid mega mall in Malaysia overhauled its ageing cooling infrastructure in a chiller plant retrofit project helmed by Johnson Controls, a global building technologies and solutions company.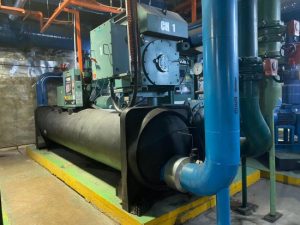 Thanks to analytics, the project – completed in 2012 – has continually exceeded the set targets for improving energy efficiency and sustainability of the mall that opened in 1997.
Making shoppers comfortable in a gigantic indoor environment without busting the operating budget is a multi-million dollar concern. 
For Sunway Pyramid shopping mall in Malaysia, which is renowned for its themed shopping and a wide variety of entertainment options, a sound investment yielded an annual savings surpassing RM3 million in energy and operational costs for seven consecutive years – and the return are still coming in.
Driven by concerns over rising utilities costs and sustainability issues, Sunway's management decided to overhaul the mall's original cooling system. The existing system design was no longer adequate: over-taxed pumps and inefficiently chilled water by the chillers ensued.
READ: Grundfos Launches Distributed Pumping System To Meet Asia's Sustainable Cooling Needs
Johnson Controls was awarded the retrofit contract in a six-way tender exercise. The project scope was to replace the ageing installation to eliminate the use of HCFC refrigerant gas, and to improve the overall chiller plant room efficiency. In addition, the project was to be carried out without downtime to the retailers and shoppers at the mall.
With a total retail floor area of nearly four million square feet, the retrofit project was one of the largest for shopping malls and a pioneer for green buildings in this category in Malaysia. 
It is estimated that green building practices can reduce a building's operating costs by as much as nine percent, while increasing the building value by 7.5 percent and providing a 6.6 percent increase in return on investment.
Optimising The Built Environment
Johnson Controls customised and installed an integrated solution that consisted of a central chiller plant optimisation software and a series of eight centrifugal chillers (comprising seven units of 1,200 TR capacity and one unit of 550 TR capacity). 
Each York YK chiller has a variable-speed drive and uses the HFC-134a refrigerant, a chlorine-free refrigerant with zero ozone depletion potential and no servicing phase-out date. The chiller, each able to achieve 0.54 kW/TR or less, is also fitted with a falling-film evaporator that reduces refrigerant charge by up to 40 percent.
READ: Johnson Controls Eyes Southeast Asia Smart Building Market With Key Hires
The central Metasys chiller plant optimisation software, part of Johnson Controls' building automation system, uses advanced algorithms to minimise energy use and operational cost without sacrificing reliability. 
The technology monitors numerous inputs – from connected chillers, pumps and cooling towers to weather forecasts, utility rates and maintenance schedules – in real-time and the data is updated every 15 minutes. The algorithms automatically optimise the cooling, heating and power generation in a holistic way.
Prior to the introduction of the software, operating the chiller system was heavily dependent on the operators. The entire system comprising chillers, cooling towers, chilled and condenser water pumps, had to be manually started every day. All relevant readings had to be recorded manually as well.
Following the implementation of the Metasys software, the service team is able to switch their focus to system monitoring. The software now handles the routine operations, leaving the crew to pay closer attention on monitoring the health status of the chillers, power usage and the chilled water supply.
READ: Of Power, Smart City And Sustainability
All equipment, located from the rooftop to the basement, are converged to the Metasys system software, providing the crew with an easier way to monitor the system performance.
The system is also programmed for flexibility. The Sunway Pyramid's crew has the option to intervene when necessary, even with the chiller system running in auto mode, through selective force start/stop and enable/disable modes.
Furthermore with the recent introduction of the Metasys User Interface (UI), the crew can swiftly search for any location or equipment by name and to bookmark a location or equipment in a web browser. 
All data displayed in the Metasys UI is organised in a dashboard format that gives the crew an overview of what is happening within a space, equipment, or central plant. It gives the maintenance team quick access to any item that is flagged, overridden or offline.
With the Sunway Pyramid integrated network, the crew has the ability to view the Metasys system in almost any type of mobile device with any screen size.
READ: Megatrends In Energy Create A Path To Innovative Solutions
With more efficient technology in place, the mall is running six out of the eight chillers on a daily basis — with better indoor cooling temperatures. The extra buffer allows the service team to rotate the chillers to minimise equipment stress, in addition to having extra cooling capacity during festive peak periods with the mall is crowded with shoppers.
Initially, the mall's service team was sceptical about the effectiveness of the system. But, they were soon won over by the intuitive design, touchscreen user interface and powerful analytics. 
With the OptiView control centre feature, which has a full-colour, interactive display of setpoints, readouts, alerts and reports, the service personnel is able to fix any issue quickly to enhance the chiller performance. 
With training support from Johnson Controls, the team has adopted the full scale of the optimising software to drive greater efficiencies to their work.
Significant Cost Reductions
Sunway Pyramid exceeded its energy efficiency targets within a year of project completion. The solution delivered plant room efficiency of 0.7 kW/TR, surpassing the planned 0.75kW/TR mark. 
Energy consumption and operational costs have been significantly reduced by 30 percent, which amounts to more than RM3 million per year. Prior to the retrofit, the average monthly electrical consumption in 2011 was a whopping RM1.4 million.
Reducing carbon emission is also an important goal for the Sunway Pyramid. The energy-efficient chillers reduce some 4,300 tonne/year of carbon dioxide emission – an equivalent of more than 20,000 trees being off-set.
The new solution further offers flexibility and improves productivity. It has sufficient redundancy to ensure undisrupted cooling and is able to provide extra cooling capacity to meet higher footfall at the mall. 
The service personnel can better manage and monitor the plant room performance through the system's automation features and analytics, thereby improving overall efficiency such as faster response time to address any disruptions.
Encouraged by the results, the Sunway Group is working with Johnson Controls to improve the energy efficiency on its other properties such as Sunway University and Sunway Medical Centre.
Article contributed by Johnson Controls.
Check out these articles:
Grundfos Presents iSolutions Range To Meet Taiwan's Smart And Sustainable Manufacturing Needs
Fast And Safe In Industry 4.0 With Smart Igus Energy Supply On Long Travels
New General Manager Reinforces Position Of Grundfos In Thailand Water Pump Market
Safe Guidance For Maximum Precision Machining
Rise Of Smart Data In Manufacturing
Sembcorp appointed to build Singapore's largest floating solar farm
Emerson's Oil & Gas Exploration and Production Software Suite Drives Customer Success
F&N To Open S$80 Million Smart, Sustainable Facility In Singapore
CLICK HERE FOR LATEST NEWS.
READ CURRENT AND PAST ISSUES OF IAA.
KEEP YOURSELF UPDATED, SUBSCRIBE TO IAA NOW!
AND DON'T FORGET FOLLOW US ON FACEBOOK, LINKEDIN AND TWITTER!