The Long, Long Road of Internal Transport
By the time a manufactured product is ready to be shipped to a customer, it may already have travelled miles, just within its own manufacturing and warehousing environment. Raw materials and components move from the receiving dock to incoming inspection to the warehouse and then to production lines on the manufacturing floor.
For many manufacturers, flexible, adaptable, and safe autonomous mobile robots (AMRs) are optimising workflows throughout manufacturing and warehouse environments. AMRs allow manufacturers to focus workers on high-value activities that directly drive revenue, rather than taking them away from their workstations for low-value tasks such as pushing carts. Integrated AMRs also ensure that material is delivered just-in-time to each stage in the process so that equipment and operators are kept consistently productive. Throughout the manufacturing environment, AMRs address a range of workflows for small and mid-sized manufacturers as well as large manufacturing and distribution centres.
Request for a full copy of this white paper here.
Improve Manufacturing Workflows with MiR Autonomous Mobile Robots
AMRs from Mobile Industrial Robots (MiR) optimise productivity and improve workflows throughout manufacturing facilities of nearly any size. MiR offers robots to meet payload and mission requirements for a range of manufacturing workflows.
If you wish to learn more about the products, Contact MiR
Watch this in-depth workflow video for more details: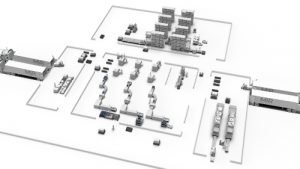 CLICK HERE FOR LATEST NEWS.
READ CURRENT AND PAST ISSUES OF IAA.
KEEP YOURSELF UPDATED, SUBSCRIBE TO IAA NOW!
AND DON'T FORGET FOLLOW US ON FACEBOOK, LINKEDIN AND TWITTER!