COVID-19 is far from over. It continues to impact manufacturers and disrupt supply chains. In light of the continued impact of COVID-19, Industrial Automation Asia (IAA) conducted a survey on how the pandemic has changed business as usual for many regional manufacturers.
Whilst the survey looked at how COVID-19 has impacted manufacturers, we're pleased 95.4 percent of respondents found IAA's content of value during the pandemic.
How has COVID-19 changed manufacturers digital transformation outlook?
92 percent of respondents say COVID-19 has accelerated their digital transformation plans.
67 percent of respondents seek increased safety protocols and solutions in materials handling.
42 percent seek more efficient data management solutions such as robotic process automation (RPA).
How has COVID-19 impacted manufacturers financials?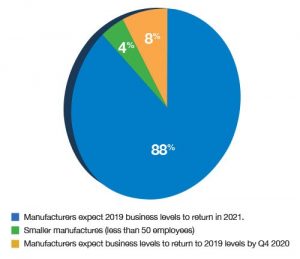 Overall, 88 percent of manufacturers report a negative impact on financials, while only 4 per cent report no impact and 8 percent report a positive impact.
However, despite this, 24 percent of manufacturers expect business levels to return to 2019 levels by Q4 2020, with that number increasing to 36 percent when we just look at smaller manufactures (less than 50 employees).
In all, 72 percent of manufacturers expect 2019 business levels to return in 2021.
How have manufacturers been impacted by COVID-19?
30.4 percent of our readership continue to experience rapidly changing product demand, while 26.1 percent are operating at a reduced compacity due to COVID-19.
For some, it's more serious, with 13 percent report closing manufacturing plants in some locations, with another 13 percent report experiencing manufacturing shortages.
While 13 percent simply don't have enough information about product demand at this time.
We conducted this survey to understand the reality on the ground. Whilst we're pleased 95.4 percent of manufacturers report finding our content of value during this pandemic, we now have a more informed direction to push our content and provide a tailored service to our readership.
CLICK HERE FOR LATEST NEWS.
READ CURRENT AND PAST ISSUES OF IAA.
KEEP YOURSELF UPDATED, SUBSCRIBE TO IAA NOW!
AND DON'T FORGET FOLLOW US ON FACEBOOK, LINKEDIN AND TWITTER!